Posted on March 5th, 2014 at 7:56 AM by Kristin Wong
Over the past couple of weeks, I've been working with the nice people at Lifehacker to help launch a personal finance sub-blog for their site. And now, it's officially up and running. Exciting!
Lifehacker Two Cents  includes the same type of stuff you're used to reading at Lifehacker:  productivity tips, practical advice, interesting studies, etc. But at Two Cents, the topic will always be money-related. Yes, Lifehacker does already cover money topics. But this new blog will delve into the topic a bit deeper. Here's a post to get you going: Ask for a Raise on a Tuesday for Better Results.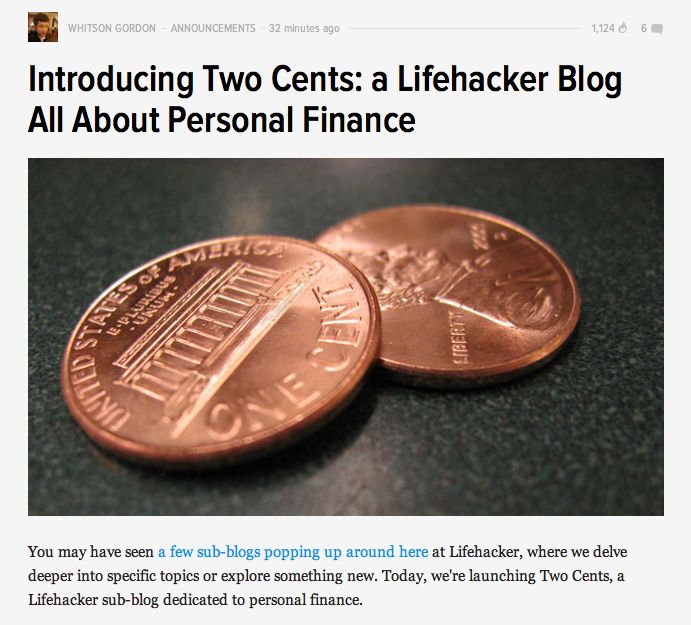 Read Lifehacker's announcement.
Um, and if you haven't already checked out Lifehacker's other sub-blogs, you should do that. Lifehacker After Hours makes me blush and laugh and cringe and I can't stop reading.
In the meantime, I'll still be contributing to Get Rich Slowly, posting at my personal blog (Brokepedia) and doing other writing and video-related thingees.
So head over to Two Cents. Bookmark it. Leave a comment. Share. The world will be a better place for it. Well, maybe not the world. But my world.
Hugs!
KWong
Posted in Writing
Posted on February 20th, 2014 at 6:47 AM by Kristin Wong
A while ago, I interviewed Leona Tam, author of, "Saving in Cycles: How to Get People to Save More Money." The study pretty much challenges everything we know about savings goals:
Posted in Writing
Posted on February 11th, 2014 at 11:30 AM by Kristin Wong
I know. Valentine's Day is basically stupid.
While cliché, the whole rant about Valentine's Day being a corporate holiday to sell useless crap is, more or less, valid. It may have its roots in a holiday honoring some vague saint, but come on. You ever heard of anyone lighting a candle for the guy on Feb. 14th?
No–because Valentine's Day is mostly just a romance pissing match.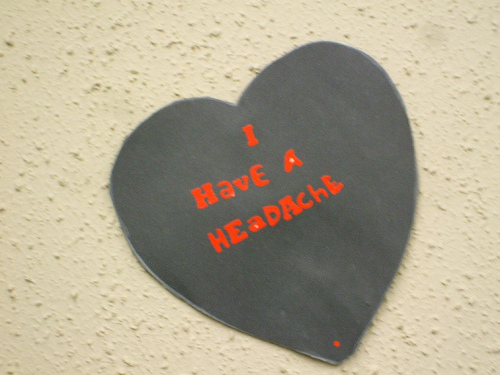 Last year, for example, someone asked what my boyfriend did for Valentine's Day. He took me to a comedy show, I told them. This person scoffed. Yes, scoffed. Apparently, we did it wrong. Obviously, my boyfriend should've made reservations at Le Fancy Restaurante, replaced the entire wait staff with teddy bears and dipped our whole meal in chocolate. Instead, he took me to a show. He probably hates me.
The point is, I think most of us can agree–Valentine's Day is basically stupid.
Still, I don't completely hate it. Part of me, dare I say, actually kind of likes it. And here's why. (more…)
Posted in Friends & Family, Personal
Posted on January 28th, 2014 at 6:36 AM by Kristin Wong
Get Rich Slowly is probably one of my favorite places to write, ever. Maybe it helps that I started out as a reader and a fan.
My editors trust my judgement and allow me to share my own stories, thoughts and anecdotes. That freedom is great. Also, the readers are intelligent, interesting and, many times, really nice. On the Internet, nice is rare.
Anyway, in my latest post for Get Rich Slowly, I thought I'd share what I've learned about personal finance since I've been writing for the site. Head on over, and check it out.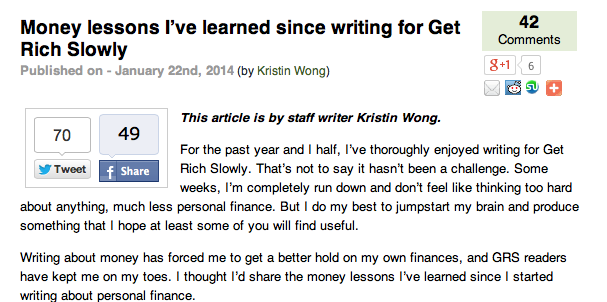 Posted in Writing
Posted on January 16th, 2014 at 6:13 AM by Kristin Wong
Oh, hey…have I mentioned Brokepedia? My recently launched website? If you haven't stopped by already, you should definitely head on over. Leave a comment. Share my junk. Tweet me 'n stuff.
Here are a few recent posts at Brokepedia:
-5 Affordable cities for a budget vacation
-Is pet insurance worth the cost?
-An easy way to score free concert tickets that doesn't involve sleeping with Steven Tyler.
Over at at Bargaineering, I ran down my cable bill to contribute to an edition of Billshit. It was kind of painful. But it paid off.
At Insurance.com, I interviewed people on the street, my favorite kind of people. We listened to a few of the best and worst songs for driving. It might interest you to know that Cher is involved. Head on over to Insurance.com and check it out.
That's all. Hugs!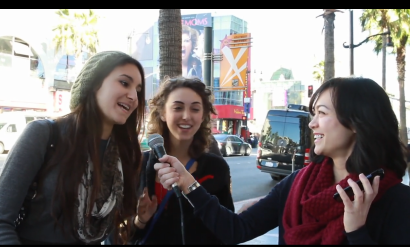 Posted in Bargaineering, Brokepedia, Writing
Next Page