Posted on December 1st, 2013 at 3:11 PM by Kristin Wong
It's been a while since I've posted anything here, and that's because my fingers have been busy typing away over at Brokepedia.com. What in the world is Brokepedia.com, you ask? Why, it's a frugal living, money saving blog that I've just recently launched. Whaaaaat?
I've been kicking around the idea of a frugal encyclopedia for a while now. I like the idea of an A-Z money saving reference guide, and I'm always on the hunt for ways to save on all of my expenses. In fact, my frugal living skills are what got me an audition and then finally a staff writing position over at Get Rich Slowly.
I wanted an outlet to share the simple, practical money saving tips and frugal living advice I've learned over the years. I wanted to compile those tips in one convenient spot, a place where visitors can find ways to save money on everything. In addition to the savings tips I've already come across, I'll also share new experiences in searching for deals and discounts. Sometimes I'll share the basic budgeting and money tips that have helped me get my own finances in order. Sometimes, I'll even share a delicious cheap recipe I come across.
Why Brokepedia? Well, because I learned to be frugal when I was broke. I think most people do. And Brokepedia is dedicated to all the broke folks out there.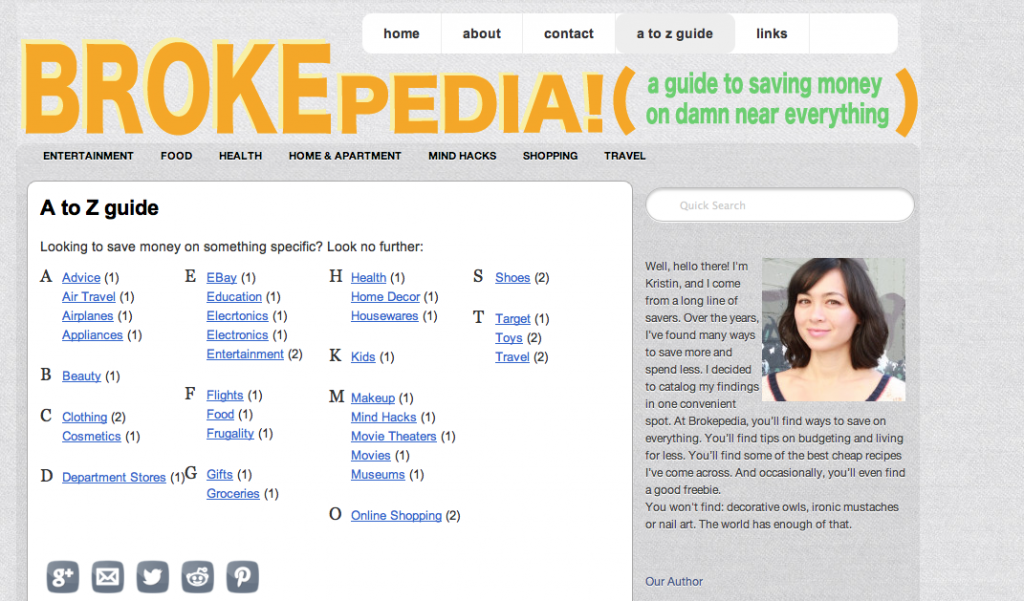 For now, Brokepedia will be updated a few times a week.  I'd love it if readers would subscribe and return to the site regularly to see what's new. I also hope readers will bookmark the site and reference it when they want to, say, save money on groceries. Or find a cheaper flight. Or go to the museum for free.
So get outta here, and go visit Brokepedia.com. Check back often, and tell your friends!
Oh, and if you have any input about the site, tips you'd like to see covered, etc., feel free to email me.
Tags: Frugal living, Frugality, save money, Spending Money
Posted in Brokepedia, Get Rich Slowly, Personal, Writing
Posted on November 15th, 2013 at 2:39 PM by Kristin Wong
I've never handled tragedy gracefully. Usually, I don't even bother handling it; I just run from it. Even in preparing to sit down with this post, I considered writing about something else, anything else, because, well, I just didn't want to deal with it.
Getting older has taught me that tragedy is unavoidable. Bad things happen. To all of us. Tragedy is more frequent for some of us than others; it's worse for some of us. But however often and however terrible, tragedy happens, so I've resolved to learn to handle it.
Earlier this week, my family lost our dog, Max. If you've ever had a pet, you know how saying, "I lost a pet" or, "I lost my dog" can sound so trivial compared to how profound their death really feels. Max protected us. He loved us, unconditionally, and often even better than we loved each other.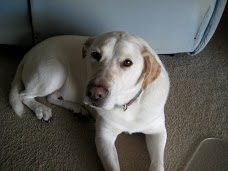 Posted in Friends & Family, Personal
Posted on November 6th, 2013 at 9:05 AM by Kristin Wong
People tend to think of lifestyle inflation as enjoying an expensive lifestyle when you don't have the money. I think that's because that's usually how it's enjoyed. But at its core definition, lifestyle inflation means just that: inflating your lifestyle. Sometimes people do it when they have the money; more often they do it when they don't. But I think  lifestyle inflation can be taken on responsibly. And in this post for Get Rich Slowly, I argue my damn point.
Tags: Get rich slowly, Lifestyle inflation, money
Posted in Get Rich Slowly, Writing
Posted on November 4th, 2013 at 6:22 AM by Kristin Wong
Last year I was on a major pumpkin pie kick. I baked something like five pumpkin pies, all from scratch, using a variation of the Trader Joe's pumpkin pie recipe found on the bottom of their pie pumpkins.
This year, I bought a pie pumpkin somewhere else, and there was no helpful recipe. I'd lost my Trader Joe's recipe and was disappointed when I scoured the web for it and couldn't find it anywhere. Luckily, they're still sticking recipes on the asses of their pumpkins, so I just went to TJ's and got another one. At any rate, I thought I'd share my version of the recipe here, where I can boast about my pumpkin pie skills and also find the recipe if I ever lose it again. I'm also including the easy-as-hell recipe for crust, which I also make from scratch.
Here are some photos. I forgot to take a picture of the finished product–I was hungry. So I added a pic from a previous pie session. Ignore the ugly but delicious attempt at apple pie, please.
Tags: dessert recipes, easy pumpkin pie recipe, homemade crust, Pumpkin Pie recipe, Pumpkin pie with cream, Thanksgiving recipes, Trader Joe's Pumpkin Pie Recipe
Posted in Friends & Family, Personal
Posted on November 1st, 2013 at 6:00 AM by Kristin Wong
Last week, a full month after I lost a big freelancing gig, I was ready to surrender. I've never had so much trouble finding work, but then again, I've never been terribly picky about work before.
Probably because we were poor growing up, I've always felt lucky just to have a job. Plus, my mom's mindset sort of rubbed off on me over the years. She often remembers growing up in China and working in a sweatshop, where she wrapped candies for pennies a day. "And we were glad to have that job," she said.
"That's so sad. You were being screwed over, and you loved it," I told her.
"Of course!" she said. "What choice did we have? Starve to death?"
So that's partially why I've always valued a job, any job, and haven't been too picky. And I think there's something to be said for that sort of appreciation, but it also doesn't do much for one's sense of worth. On Thursday, I was contemplating a potentially low-paying (or high-paying) job at a writing outsourcing company. They offer cheap stories to newspapers that can no longer afford to staff or contract their own writers. I call the job "potentially" low-paying, because they offered a paltry amount per article–but hey, you could do ten articles in a day, and then you're doing pretty well for yourself. (more…)
Tags: content farms, content mills, financial freedom, journalism, money, outsourcing, Writing
Posted in Personal, Rants, Writing
Next Page