Posted on April 8th, 2014 at 10:31 AM by Kristin Wong
Let's just get right to it, shall we?
Over at Two Cents Lifehacker, I've been writing about how to protect your money when traveling and Financial Literacy Month.
For CreditCards.com, I grabbed a friend and we reviewed three popular money transfer apps. Check out my report, below.
Brokepedia has been blowing up! When I decided to start my own blog, I had high hopes, but I didn't expect anything. I mostly thought it would be a fun outlet for my two favorite hobbies: writing and being a cheapskate. But the reader stats have exceeded my expectations. And Brokepedia has recently been featured on some excellent blogs: Ready for Zero, Rockstar Finance and Impersonal Finance. If you like money topics, definitely check out those guys. They're pretty great.
Oh! And in celebration of Financial Literacy Month, I'm also giving away some free stuff over at Brokepedia. Head on over to the site to check it out.
And here's a really important issue: wage theft. It contributes to income inequality–something we all complain about, yet we accept wage theft and put up with it. Check out my article and interview with Kim Bobo, author of Wage Theft in America: Why Millions of Working Americans Are Not Getting Paid-And What We Can Do About It.
Posted in Bargaineering, Brokepedia, Lifehacker, Writing
Posted on March 5th, 2014 at 7:56 AM by Kristin Wong
Over the past couple of weeks, I've been working with the nice people at Lifehacker to help launch a personal finance sub-blog for their site. And now, it's officially up and running. Exciting!
Lifehacker Two Cents  includes the same type of stuff you're used to reading at Lifehacker:  productivity tips, practical advice, interesting studies, etc. But at Two Cents, the topic will always be money-related. Yes, Lifehacker does already cover money topics. But this new blog will delve into the topic a bit deeper. Here's a post to get you going: Ask for a Raise on a Tuesday for Better Results.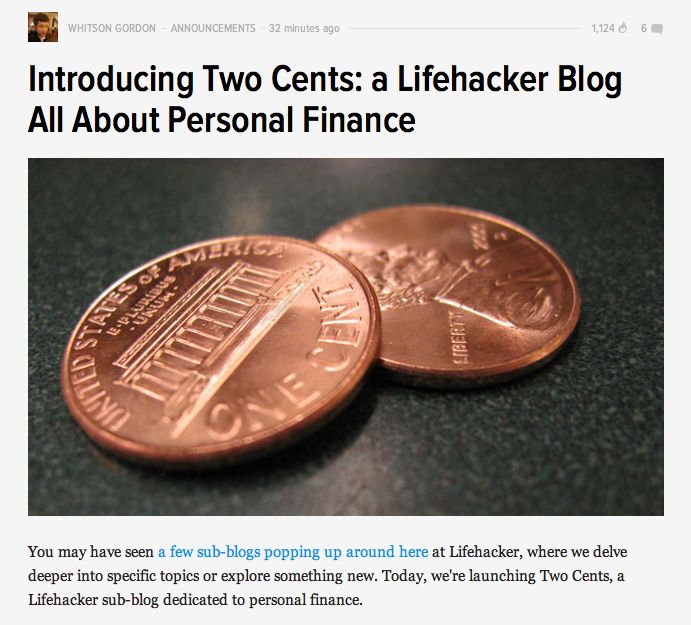 Read Lifehacker's announcement.
Um, and if you haven't already checked out Lifehacker's other sub-blogs, you should do that. Lifehacker After Hours makes me blush and laugh and cringe and I can't stop reading.
In the meantime, I'll still be contributing to Get Rich Slowly, posting at my personal blog (Brokepedia) and doing other writing and video-related thingees.
So head over to Two Cents. Bookmark it. Leave a comment. Share. The world will be a better place for it. Well, maybe not the world. But my world.
Hugs!
KWong
Posted in Writing
Posted on February 20th, 2014 at 6:47 AM by Kristin Wong
A while ago, I interviewed Leona Tam, author of, "Saving in Cycles: How to Get People to Save More Money." The study pretty much challenges everything we know about savings goals:
Posted in Writing
Posted on January 28th, 2014 at 6:36 AM by Kristin Wong
Get Rich Slowly is probably one of my favorite places to write, ever. Maybe it helps that I started out as a reader and a fan.
My editors trust my judgement and allow me to share my own stories, thoughts and anecdotes. That freedom is great. Also, the readers are intelligent, interesting and, many times, really nice. On the Internet, nice is rare.
Anyway, in my latest post for Get Rich Slowly, I thought I'd share what I've learned about personal finance since I've been writing for the site. Head on over, and check it out.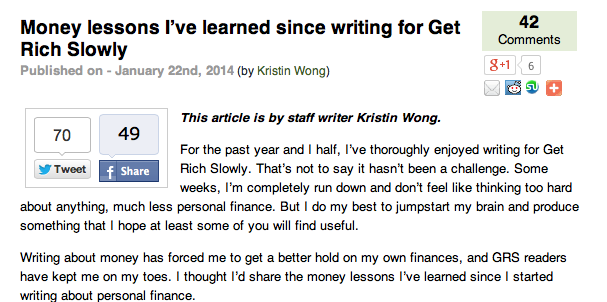 Posted in Writing
Posted on January 16th, 2014 at 6:13 AM by Kristin Wong
Oh, hey…have I mentioned Brokepedia? My recently launched website? If you haven't stopped by already, you should definitely head on over. Leave a comment. Share my junk. Tweet me 'n stuff.
Here are a few recent posts at Brokepedia:
-5 Affordable cities for a budget vacation
-Is pet insurance worth the cost?
-An easy way to score free concert tickets that doesn't involve sleeping with Steven Tyler.
Over at at Bargaineering, I ran down my cable bill to contribute to an edition of Billshit. It was kind of painful. But it paid off.
At Insurance.com, I interviewed people on the street, my favorite kind of people. We listened to a few of the best and worst songs for driving. It might interest you to know that Cher is involved. Head on over to Insurance.com and check it out.
That's all. Hugs!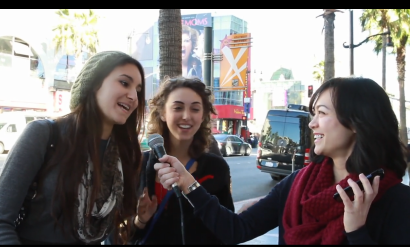 Posted in Bargaineering, Brokepedia, Writing
Next Page